Whole School Curriculum
At Priory Primary School we strongly believe that it is our responsibility to provide our pupils with the knowledge, skills and understanding in order to develop:
Successful learners
Who:
Have the essential foundations required to be successful:
High level of attendance and 'ready' to learn
Effective communication skills
Able to identify and solve problems
Have enquiring minds and are creative and resourceful
Are aspirational and motivated to achieve the best that they can be
Work well independently and as part of a team
Attain the expected levels in core areas of reading, writing and maths
Responsible Citizens
Who:
'Respect' others, act with integrity and distinguish right from wrong
Are proud members of the school and local community and contribute positively
Understand and tolerate different beliefs and cultures
Discuss, debate and evaluate complex issues and develop informed opinions
Confident and resilient individuals
Who:
Have a sense of self-worth and personal identity
Become increasingly independent, are able to take the initiative and organise themselves
Make healthy lifestyle choices
Take managed risks and know how to keep 'safe'
Recognise their talents and have ambition
Are willing to try new things and make the most of opportunities
Our curriculum is designed to facilitate academic success and personal growth. We do this through our model of securing success: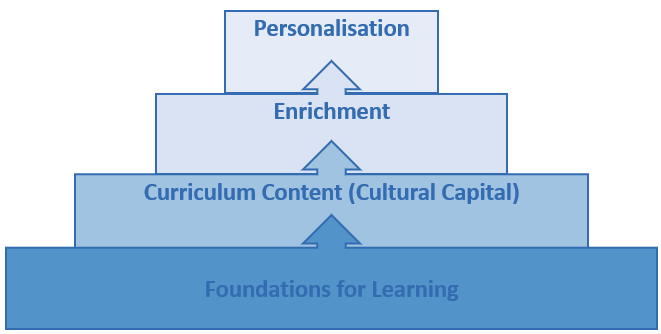 We aim to:
Provide children with strong foundations for learning through:
A culture of safeguarding
Effective pastoral support
Engagement with parents that supports pupil wellbeing and academic progress
Providing a safe environment
Developing the wider personal skills need for educational success
Supportive pupil centred behaviour processes
Ensure children have access to a broad and balanced curriculum, meeting the expectations of the National Curriculum, which is coherently planned and well sequenced towards cumulatively sufficient knowledge and skills for future learning
Enrich our curriculum, providing our children with a variety of rich learning experiences and the opportunity to explore their own interests
Meet the personal and academic needs of every child
Achieve our aims through a positive and caring ethos, embodied by passionate members of staff
Implementation – Foundation Subjects
For each curriculum subject area, we have identified the progression of key skills and knowledge which was informed by the national curriculum (subject progression documents). The subject progression document has been used to inform our subject curriculum maps. Links to prior knowledge, key vocabulary and essential knowledge and skills for each aspect of our curriculum maps are exemplified through our knowledge organisers. Knowledge organisers are shared with the children and used by the children to plan a learning sequence.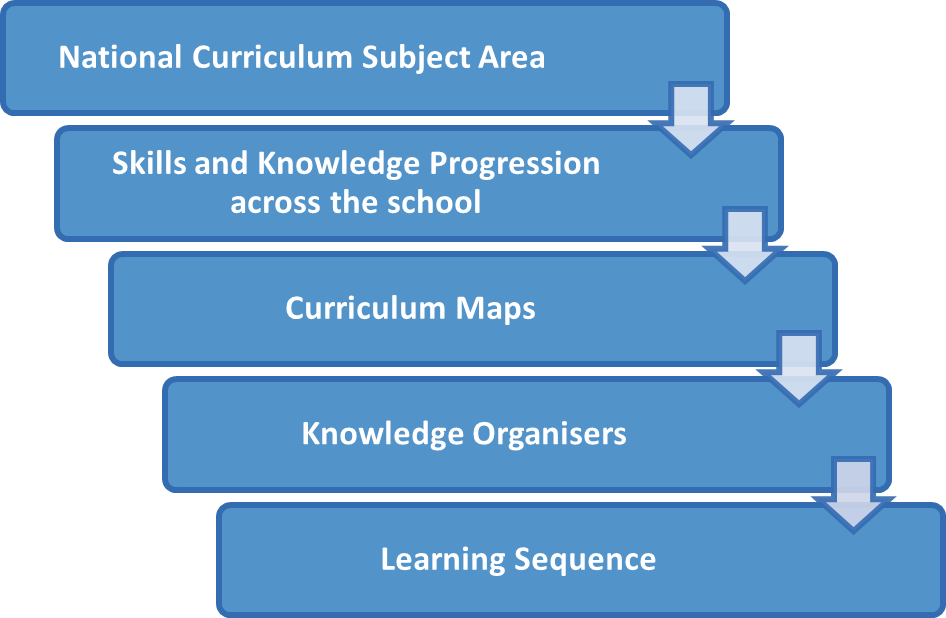 Pupils prior learning is also listed in each unit plan to ensure teachers know what has been taught in previous years and how the new learning builds and links to this previous work. Understanding pupils' possible misconceptions about the theme being studied is also an important consideration that teachers must make to ensure, where at all possible, misconceptions are not allowed to form in a child's grasp of a concept, knowledge, understanding or skill.