Uniform
At Priory Primary School, we pride ourselves in looking smart by wearing our school uniform. We require all children to have at least one badged jumper. Wearing the Priory Primary School uniform promotes a sense of community within the school and allows children to demonstrate their pride in their school both within school and when they are out in the local community.
Summer Uniform from Easter until October half term
Blue gingham pinafore dress or
Grey shorts/trousers and white polo shirt
Navy sweatshirt/cardigan (no hoodies)
Black sensible plain shoes (no trainers or coloured logos)
Winter Uniform from October half term until Easter
White polo shirt
Navy sweatshirt/cardigan (no hoodies)
Black or grey trousers/skirt
Black sensible plain shoes (no trainers or coloured logos)
Pre-Loved Uniform
We also offer a pre-loved uniform service to families, making it a cost-effective, whilst also helping towards achieving net zero carbon emissions.
All our pre-loved uniform can be found on the website Uniformed https://app.uniformd.co.uk/items/197.
We would love to receive donations of good quality pre-loved uniform. All donations can be dropped into the school office.
School Uniform
Uniform Provider
All our school uniform (school logo items and plaid skirts) is now available to order direct from:
https://myclothing.com/collections/priory-primary-school-6730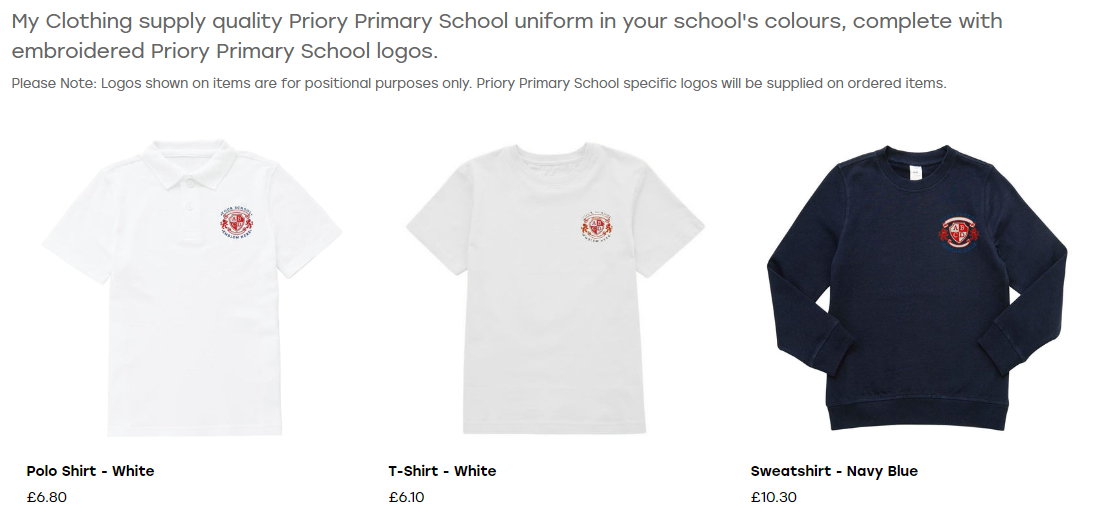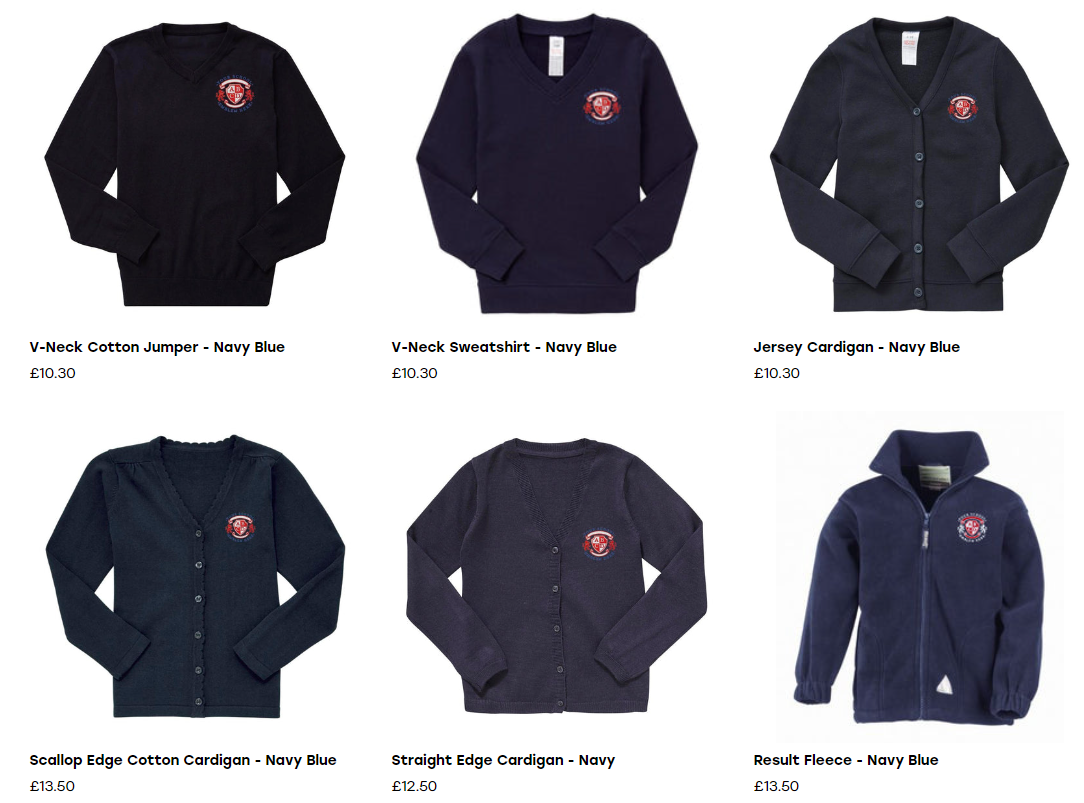 PE Kit
Outdoor
White t-shirt/polo
Black/grey joggers
Black pumps and/or trainers
Indoor
White t-shirt/polo
Black shorts
Black pumps
Swimming Kit
Swimming trunks/full swimming costume (no bikinis)
Swimming cap for long hair
Towel
Goggles allowed but only if accompanied by a letter from the child's parent which states that the parent wants their child to wear them
Forest School Clothing
Sturdy trainers or wellies
Change of trousers or leggings and top (preferably old clothing)
Waterproof coat
Sun hat/sun screen (sunny days)
JEWELLERY & HEADWEAR
In line with Dudley Local Authority's Health and Safety Policy, we do not allow children to wear jewellery in school (except for a pair of small ear studs and watches). No body piercings are allowed. All studs and jewellery must be removed on PE days either before they come to school or by the child themselves – staff cannot remove jewellery. We do not allow hats, caps, large 'Jo-Jo' hair bows or headbands with ears on to be worn during class time or inside school buildings, except for religious or medical reasons.
LABELLING
All clothing should be clearly labelled with your child's name. This is very important as uniform items look similar and can easily be confused with another child's clothing. The school cannot accept responsibility for any lost items.
STOCKISTS
Uniform is available to buy from Asda, Tesco and the badged uniform is available from myclothing.com
HAIR AND NAILS
Hair styles must be appropriate to learning in the primary school classroom. Extreme haircuts/styles and colours are not allowed this includes: lines shaved into the hair, bleached hair and mohicans. Long hair should be tied back particularly for PE lessons. Staff are not permitted to do this and parents/carers of young children should do this before they come to school.
Nail polish and make-up or temporary tattoos are also not allowed.